HSNF Golf for MRI Raises $130,761 for the Purchase of New MRI Scanners for Health Sciences North
Posted 29 July 2019 at 10:15pm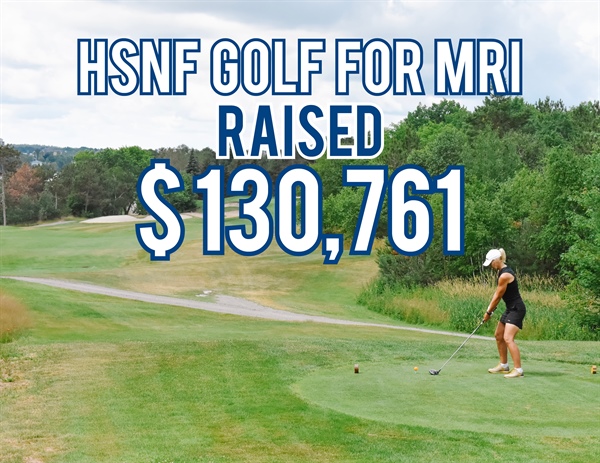 SUDBURY, ON – Health Sciences North Foundation (HSNF) is very pleased to announce that $130,761 was raised during this year's HSNF Golf for MRI at the Idylwylde Golf & Country Club on July 11. Funds raised will support the purchase of new magnetic resonance imaging (MRI) scanners for Health Sciences North (HSN) and help ensure that patients have access to the most advanced medical imaging.
"We are very grateful to all of the HSNF Golf for MRI sponsors, donors and participants who contributed to another successful tournament. Their generous support makes a difference in the lives of people living in Northeastern Ontario who need an MRI," said Dan Gray, HSNF Board Chair.
"We are very proud to be the presenting sponsor for the HSNF Golf for MRI Tournament," said Judy Gougeon of Schuster Boyd McDonald, Gougeon Insurance Brokers. "Research indicates that there is a high need for a second MRI at HSN. One thing that this event showed is how our community always pulls together to support a worthwhile cause."
"There was no shortage of generosity from our community in supporting this successful fundraising event," said Mary Lou Hussak, Executive Director of HSNF. "Thank you to the local businesses that provided sponsorships and prizes and to all the participants and volunteers who helped raise funds to purchase new MRI scanners for HSN.
Proceeds raised from the HSNF Golf for MRI will ensure that HSN is equipped to provide enhanced medical imaging to support its unique and specialty role as a regional leader and acute teaching facility. Currently, the single MRI at HSN is operating 24/7 and is nearing its 10-year lifespan. HSN performs approximately 13,000 MRI tests every year to support the treatment of 600,000 residents in Northeastern Ontario. The purchase of new MRI scanners will ensure that everyone who may need an MRI will benefit from shorter wait times, accessible hours, improved diagnosis and treatment, and reduced travel burden and costs.