Staff Story: Angie Wiwczor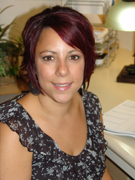 Angie Wiwczor is a nurse practitioner in the Family and Child program at Health Sciences North. Since Angie was a young girl, she always knew she wanted to follow a career path that allowed her to work with children. To her, this meant she would either become a teacher or a nurse working with kids.
In 2001, she became a registered nurse and worked in pediatrics and the neonatal intensive care unit for 10 years. In 2008, Angie made the decision to go back to school when a nurse practitioner in the unit approached her about taking over her role because Angie would be perfect for the job. In 2009 she completed a consortium program through Laurentian University and earned her Primary Healthcare Nurse Practitioner Certificate.
Angie has been instrumental in the development of new clinics for children. She was the Clinic Development Lead for the Pediatric Healthy Weights Pilot Project and the new Children's Asthma Clinic.
According to Angie, nurse practitioners are evolving and broadening the scope of health care. She will continue to grow and develop new clinics and enjoys the variety in her work. She has taught at Laurentian as a clinical instructor in the nursing program, she is a Northern Ontario Medical School faculty member, a certified asthma educator, a lactation consultant and is involved in Home Care community work and believes that critical thinking and development are an important aspect of her career.
Although she has been described as having a maternal and nurturing demeanor, Angie has no kids of her own. She belongs to a tight-knit family and enjoys spending as much time as she can with her nieces and nephews. In her free time she enjoys reading, walking and spending time at her camp on Manitoulin Island. She is an avid Zumba participant, lives an active, social lifestyle and always welcomes new challenges for herself.
"Children's health has always been a passion of mine and I absolutely love what I do."