Staff Story: Joanne Guizzo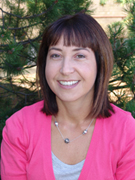 Joanne Guizzo is a Registered Dietitian who began working for the Health Sciences North/Horizon Santé-Nord in 1994. She decided to pursue a career as a dietitian as it offered an opportunity to bring together two of her passions – health education and connecting with people. Over the past 17 years she has worked extensively in the area of outpatient patient education. For the past 10 years she has worked in a leadership/management role and is currently the Clinical Manager of Ambulatory Care Clinics which includes the Diabetes Care Service, Nutrition Counseling, Chiropody, Ophthalmology Laser Clinic and the Regional Bariatric Assessment and Treatment Centre.
Joanne believes providing people with the knowledge and tools necessary to successfully manage their disease is an important way to positively impact their health and well-being. "My job enables me to seek out and seize opportunities to further develop and enhance patient education and care services." One of her most rewarding career achievements has been her involvement in the addition of the new Complex Diabetes Service, one of only three such programs in the province. Joanne looks forward to the continued development of the "one-stop shop" for diabetes care that currently includes comprehensive diabetes education and treatment, and the benefits it will have on the patient population.
When it comes to providing care, Joanne believes we all have a part to play in improving the health care we deliver. Opportunities to improve ourselves and our work are all around us. We need to be open and attentive to identify them; we need to have the courage to seize them; and finally we must have the patience to wait for opportunities to realize them.
Joanne enjoys reading and spending time with her family. She also loves to travel with a soft spot for cruise vacations in particular. She and her husband have visited Italy several times and plan to return to enjoy all it has to offer.