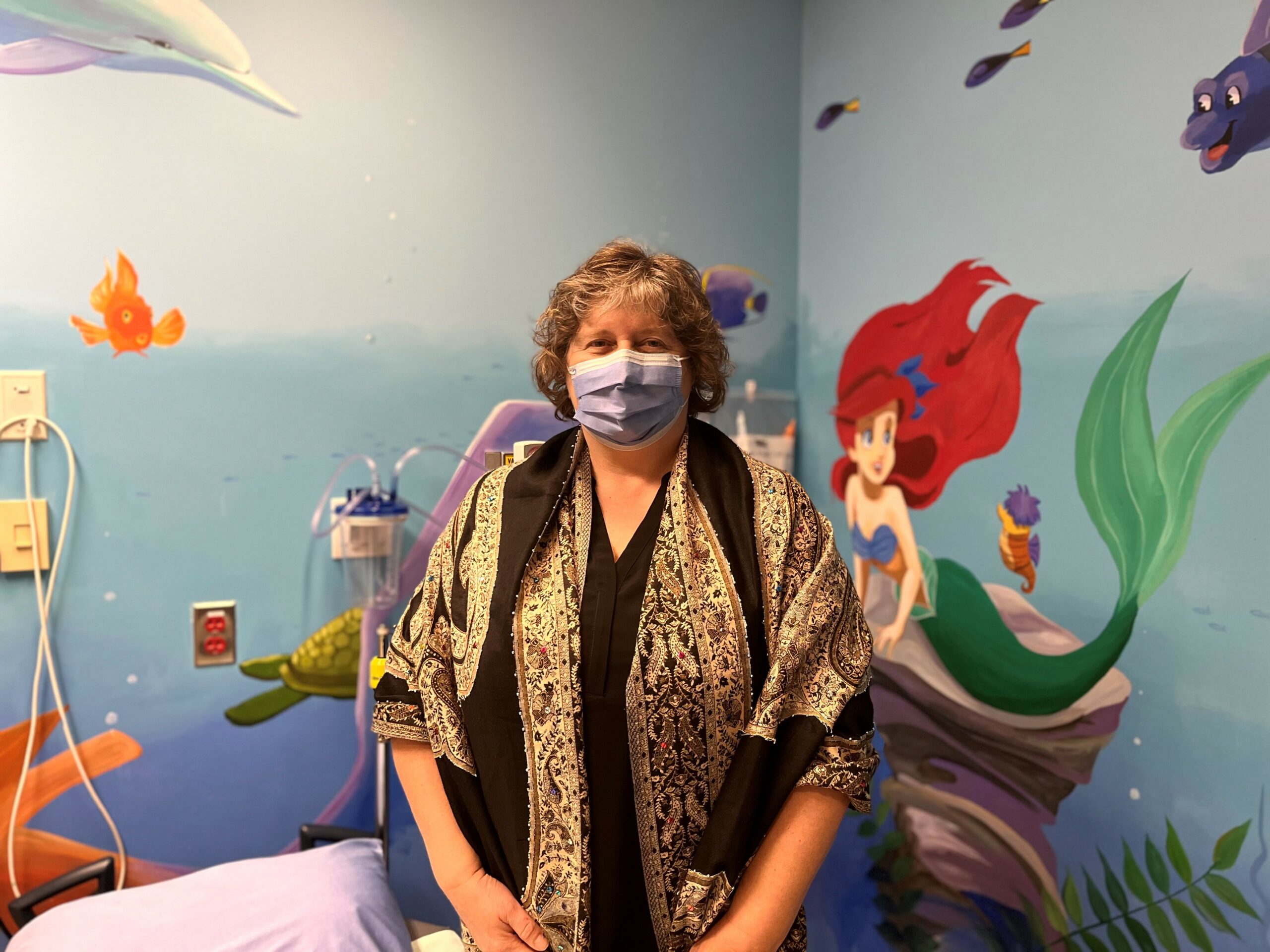 Vicky Wilton has been a registered nurse (RN) with Health Sciences North (HSN) since 1998, having worked in the adult medical/oncology unit, adult palliative care, pediatrics, and Neonatal Intensive Care Unit (NICU) before accepting the role of Pediatric Interlink Nurse with the Shirley and Jim Fielding Northeast Cancer Centre in 2007.
"I was inspired to pursue this career for many reasons, and love working with children and their families. I saw a gap in services for families that have a child with a life-threatening cancer diagnosis and needed support outside of the hospital setting. I had experience with palliative care and I was intrigued by the varied nature of the role to help these families during a vulnerable time," said Vicky.
Pediatric Interlink Nurses have a unique role in the pediatric oncology system of care and is a provincial program established through the Pediatric Oncology Group of Ontario (POGO). They are a link between the hospital, home, and school for children diagnosed with cancer in Northeastern Ontario. Vicky and team assists families in navigating the health care and education system and supports them locally to access resources and care.
"I have not been disappointed; I am humbled that families allow me to be part of their journey. It has been the most challenging and rewarding role of my career and I feel very privileged to be part of a great team of caring people," said Vicky.
Along with her colleagues in Sudbury, Vicky acts as a liaison with children's hospitals in Southern Ontario, to create a plan of care when a child is transferring back home. She works with a team of highly skilled physicians and nurses out of the POGO satellite clinic at the Cancer Center and areas all over Northeastern Ontario.
Pediatric Interlink nurses play a crucial role in assisting families of children with cancer. Support of the Shirley and Jim Fielding Northeast Cancer Centre ensures that all our patients receive quality care from dedicated, compassionate staff.
---
Vicky Wilton est une infirmière autorisée (IA) à Horizon Santé-Nord depuis 1998. Elle a travaillé aux unités d'oncologie médicale pour adultes, de soins palliatifs pour adultes, de pédiatrie et de soins intensifs néonatals avant d'accepter le rôle d'infirmière pédiatrique Interlink au Centre de cancérologie du Nord-Est Shirley et Jim Fielding en 2007.
« De nombreuses raisons m'ont motivée à poursuivre cette carrière, et j'adore travailler avec les enfants et les familles. J'ai remarqué un manque dans les services offerts aux familles dont un enfant est atteint d'un cancer mettant sa vie en danger et qui avaient besoin de soutien en dehors du milieu hospitalier. J'avais de l'expérience en soins palliatifs et j'étais intriguée par le rôle varié que je pourrais assumer pour aider ces familles à une période où elles étaient particulièrement vulnérables », affirme Vicky.
Le personnel infirmier Interlink joue un rôle unique en oncologie pédiatrique. Il travaille dans le cadre d'un programme provincial mis sur pied par le Pediatric Oncology Group of Ontario (POGO). Il sert de lien entre l'hôpital, le domicile et l'école pour les enfants atteints de cancer dans le Nord-Est de l'Ontario. Vicky et les autres membres de l'équipe aident les familles à se retrouver au sein des systèmes de santé et d'éducation ainsi qu'à accéder aux ressources et aux soins offerts dans la communauté.
« Je n'ai pas été déçue; le fait que les familles me permettent de les accompagner tout au long de leur parcours me remplit d'humilité. Ce rôle a été le plus exigeant et le plus gratifiant de ma carrière et je me considère privilégiée de faire partie d'une équipe de personnes si compatissantes », termine Vicky.
Au même titre que ses collègues à Sudbury, Vicky sert d'agente de liaison avec les hôpitaux pour enfants du sud de la province en vue de dresser un plan de soins lorsqu'un enfant retourne à sa communauté. Elle collabore avec une équipe composée de médecins et de personnel infirmier hautement spécialisés à partir de la clinique satellite du POGO au Centre de cancérologie et à différents endroits d'un bout à l'autre de la région du Nord-Est.
Le personnel infirmier pédiatrique Interlink joue un rôle crucial en aidant les familles dont un enfant est atteint de cancer. En soutenant le Centre de cancérologie du Nord-Est Shirley et Jim Fielding,  vous nous aiderez à nous assurer que tous nos patients reçoivent des soins de qualité de la part d'un personnel dévoué et compatissant.