Patients Win with New Equipment Purchases through HSN 50/50 Cash Lottery for the North
Posted 24 May 2022 at 1:13pm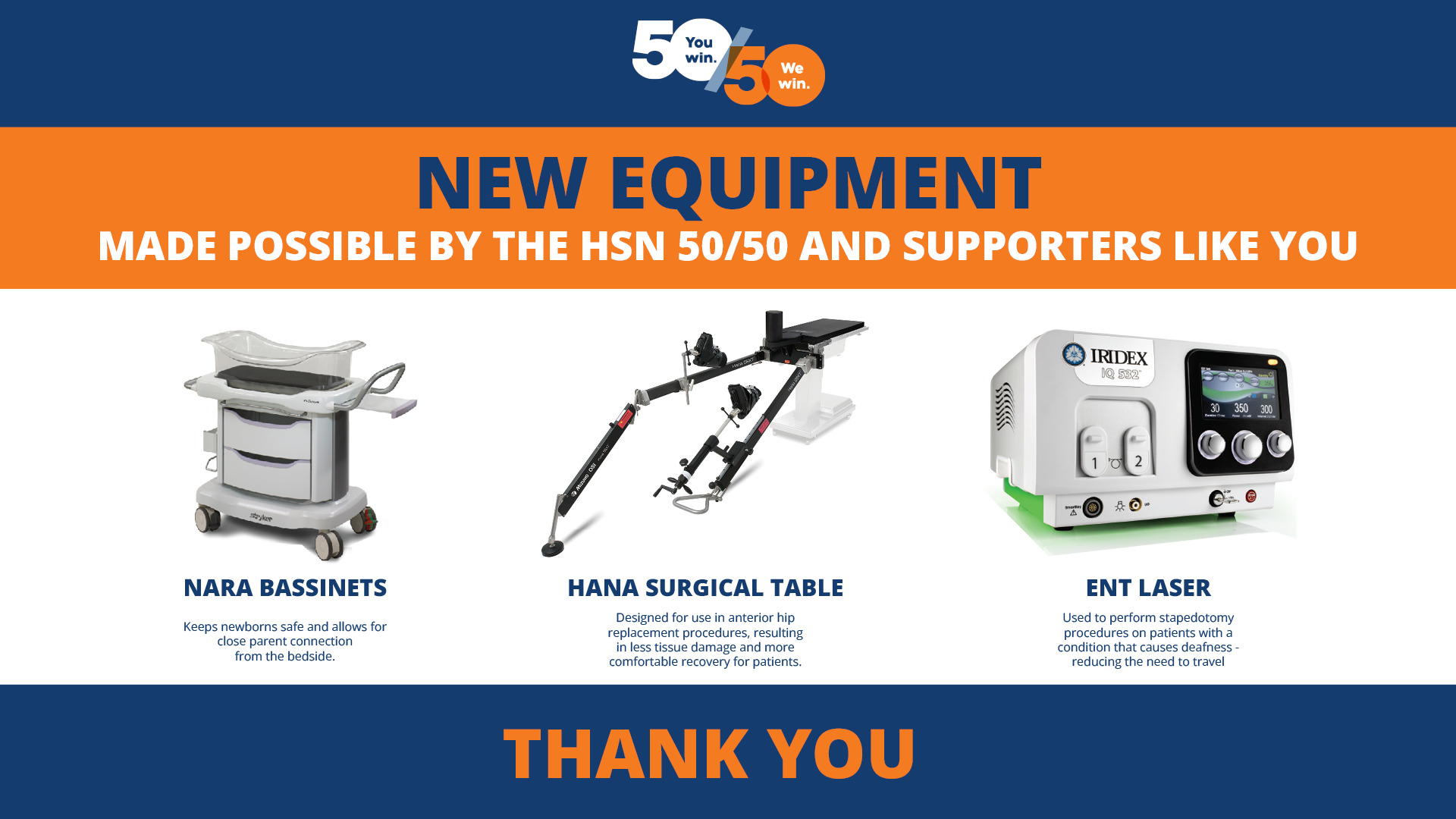 Patients Win with New Equipment Purchases through HSN 50/50 Cash Lottery for the North
Patients who require specialized ear and hip replacement surgery, as well as some of the tiniest pediatric patients at HSN will benefit from recent equipment purchases made possible through the HSN 50/50 Cash Lottery for the North. Proceeds from the lottery will be used to purchase equipment for the Surgical and NEO Kids and Family programs at HSN.
The Surgical Program will receive a second "Hana" surgical table that is designed for use in the anterior hip replacement procedure – a favourable surgery approach resulting in less tissue damage and a more comfortable recovery for patients. This addition will increase the capacity to perform these surgeries at HSN. Orthopedic surgeons use the specialized table to improve both accessibility and visibility throughout the procedure.
"We are grateful to have access to this advanced technology that allows us to better treat and support our patients, resulting in a better recovery from this surgery option and an earlier discharge home," said Dr. Susan Vokey, Orthopaedic Surgeon at HSN. "Proceeds from the HSN 50/50 are welcome news when supporting vital equipment needs and improving the well-being of our patients at HSN."
The Ear, Nose, and Throat (ENT) surgical team at HSN also received a boost from the lottery with the purchase of a new ENT laser used to perform the stapedotomy procedure on patients with an inherited condition called otosclerosis, which causes deafness. Currently, patients in Northern Ontario must travel to Toronto or Ottawa to have this type of surgery to help them hear again. The new laser at HSN allows patients to have the procedure done close to home.
"We are thrilled to partner with the Foundations and benefit from funds raised through the HSN 50/50 to ensure that the surgical program is well equipped with what we need to positively impact the lives of patients across our region," said Joanne Guizzo, Administrative Director of the Surgical Program at HSN.
The NEO Kids and Family Child Program is also the beneficiary of funds raised through the HSN 50/50 with the addition of 10 "Nara" bassinets used to help keep newborn babies safe and designed to improve visibility and interaction from the bedside.
"We are grateful for the new bassinets, which allow parents and their newborn babies to have a much better experience while in hospital. The design and safety features of these new bassinets allows the parents to remain close to their newborn, which is important at the start of life," said Natalie Kennedy, Administrative Director, NEO Kids and Family Program & Inter-Professional Practice.
THE HSN 50/50 IS A WIN-WIN!
When we're not giving our life-changing prizes to lucky winners, we're looking for the best way to support the priority equipment, capital and research needs at Health Sciences North.
Purchases like these would not be possible without you.
Thank you so much for buying your tickets and supporting our causes.
There's still lots of time to get your tickets for April's draw, and the jackpot is still growing every day. If you haven't bought your tickets yet, please consider purchasing them today!