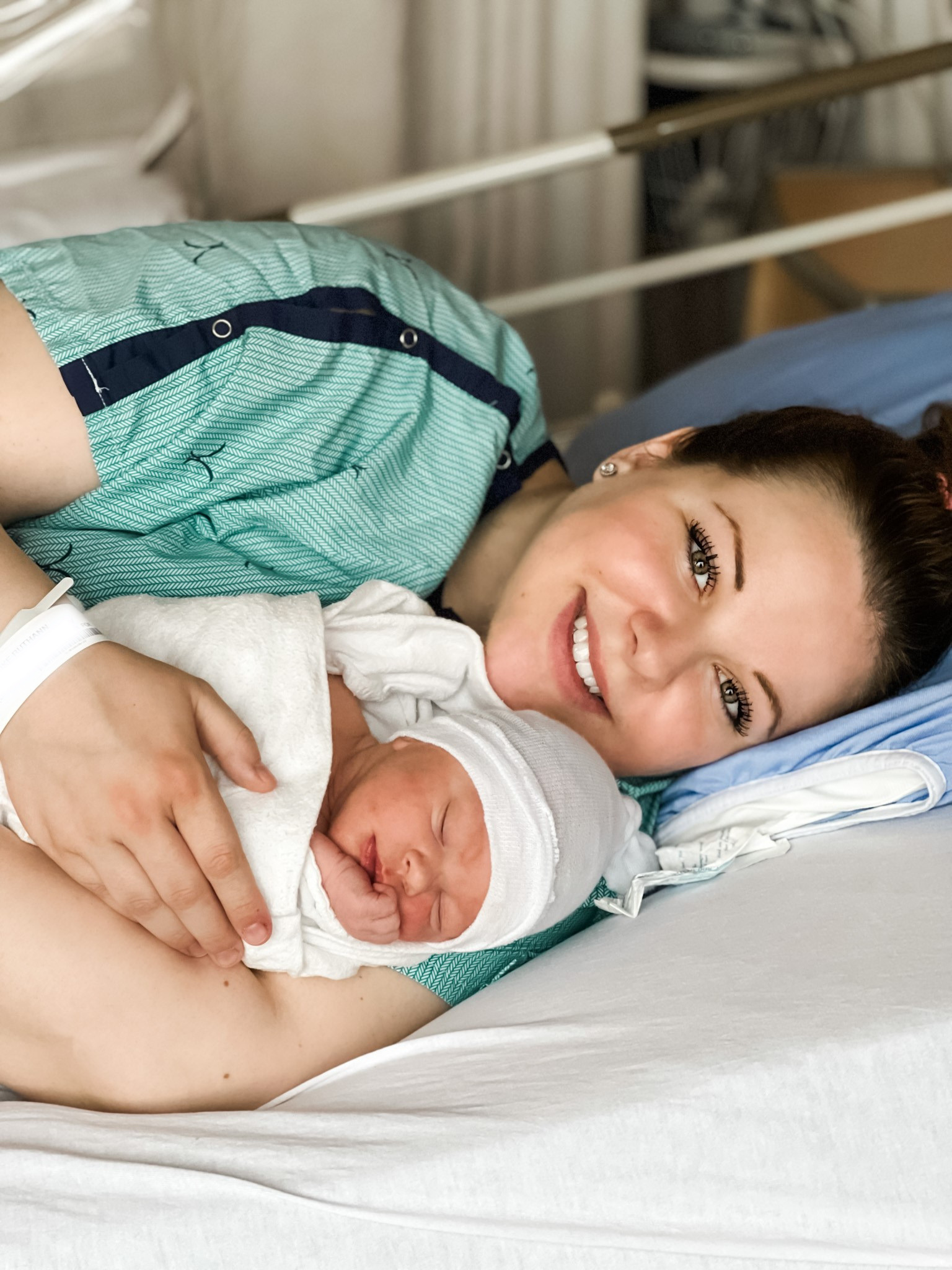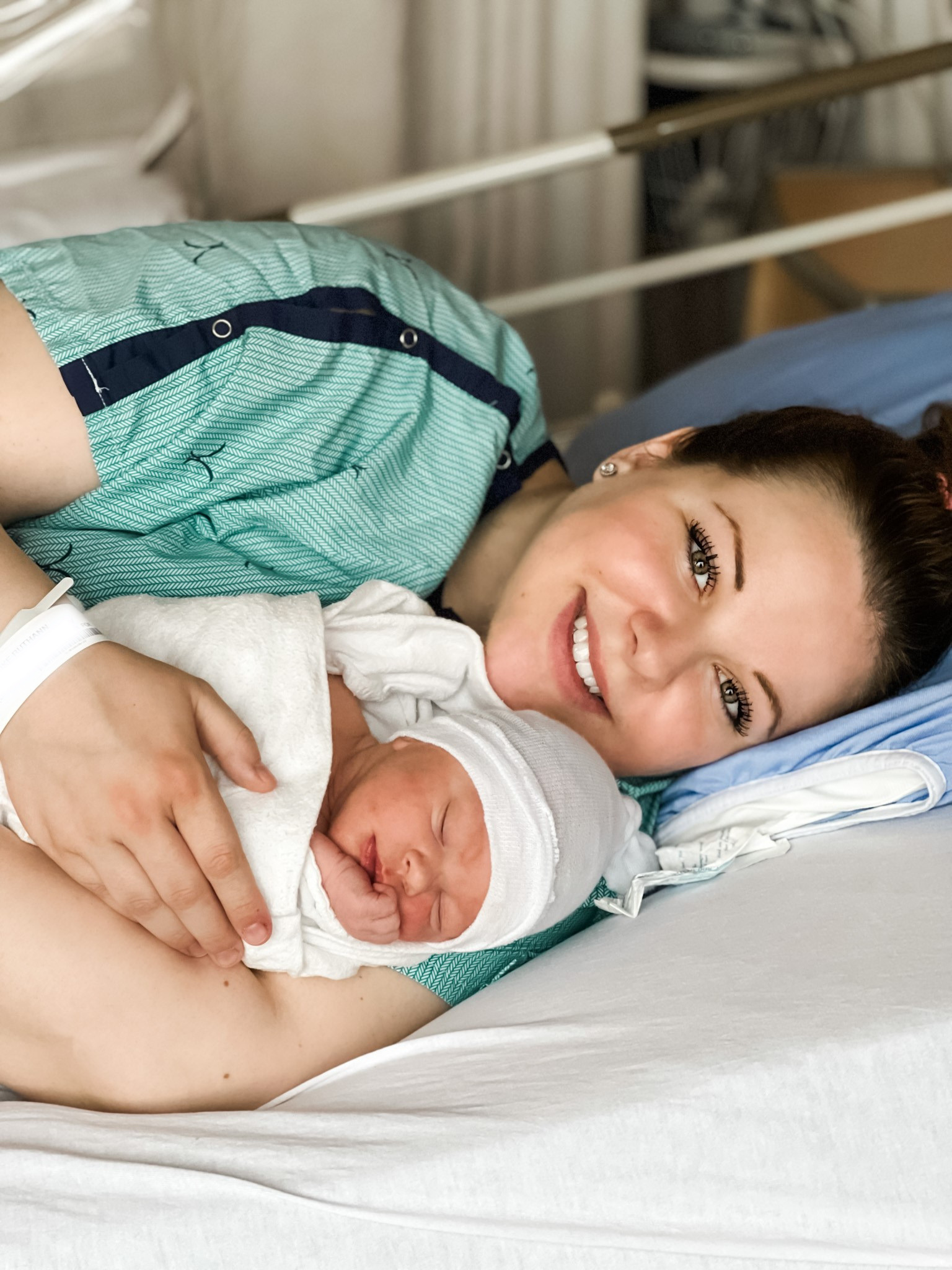 Brooke began her career as a registered nurse (RN) in the Birthing Centre at Health Sciences North (HSN) in 2020 during the start of the pandemic. However, Brooke has been part of the HSN family prior to that, as a former volunteer at the Ronald McDonald House Charities Family Room on the NEO Kid's pediatric unit and as a nursing student in many clinical placements throughout the hospital.
It was January 2022, when Brooke experienced being a patient for the first time, in a department, she worked in. "My husband and I were full of excitement and nerves when we arrived at the birthing centre at HSN to have our first baby. I didn't have a birth plan, though I did have a little hope of having a traditional birth. It was a quiet night and labour looked promising at first," said Brooke.
However, during her labour, complications arose, and Brooke was rushed to have an emergency caesarean section. "Everything happened so quickly, I was wheeled into the operating room before I had a chance to say goodbye to my husband. It was admittedly stressful and scary for both my husband and me. Although my birth experience was not how I initially pictured it, I'm so grateful to have had a positive experience. While no one expects or wishes for complications or an emergency to arise, they can occur during the birth process and I'm fortunate that I had amazing care," said Brooke. She added that her obstetrician went above and beyond in helping her and her husband feel more at ease and reduce stress during the emergency experience.
On January 17th, 2022, Brooke welcomed a baby boy, Jensen, into the world. Weighing 7lbs 14oz, he was healthy with a bright future ahead. "I was fortunate to have my husband by my side and my mom a phone call away. Unfortunately, with the pandemic, my mom couldn't be with us in labour and delivery, but having each of their love and support is what helped me through the process. My husband and I went into the hospital as two and brought our little one into the world here at HSN, without the additional worry or challenges that can accompany the need to travel for healthcare services or resources."
When asked how she felt being a patient compared to a nurse, Brooke said: "Being in the shoes of a patient is vastly different from being a nurse and healthcare provider. When it comes to my own experience as a patient, the "nurse" in me flies out the window. It was very nerve-wracking going in to have my first baby, I didn't know what to expect and was afraid of what was going to come. There is a true vulnerability when you are a patient. With uncertainties and challenges, whether physical, mental, or emotional, being a patient is scary and tough for anyone. The patient experience is never easy, which is exactly why it is so important for healthcare providers to deliver empathetic, quality care that attends to each patient's individualized needs." Brooke adds, "Healthcare access is a social determinant of health that greatly influences health outcomes. Everyone deserves to receive the care they require within their community. I am so proud to work for an organization that is committed to working towards solutions in addressing accessibility gaps and other health inequalities across our region and bringing care closer to home."
Donors play a vital role in ensuring that HSN and its team of healthcare professionals are well equipped to deliver exceptional care when and where it's needed.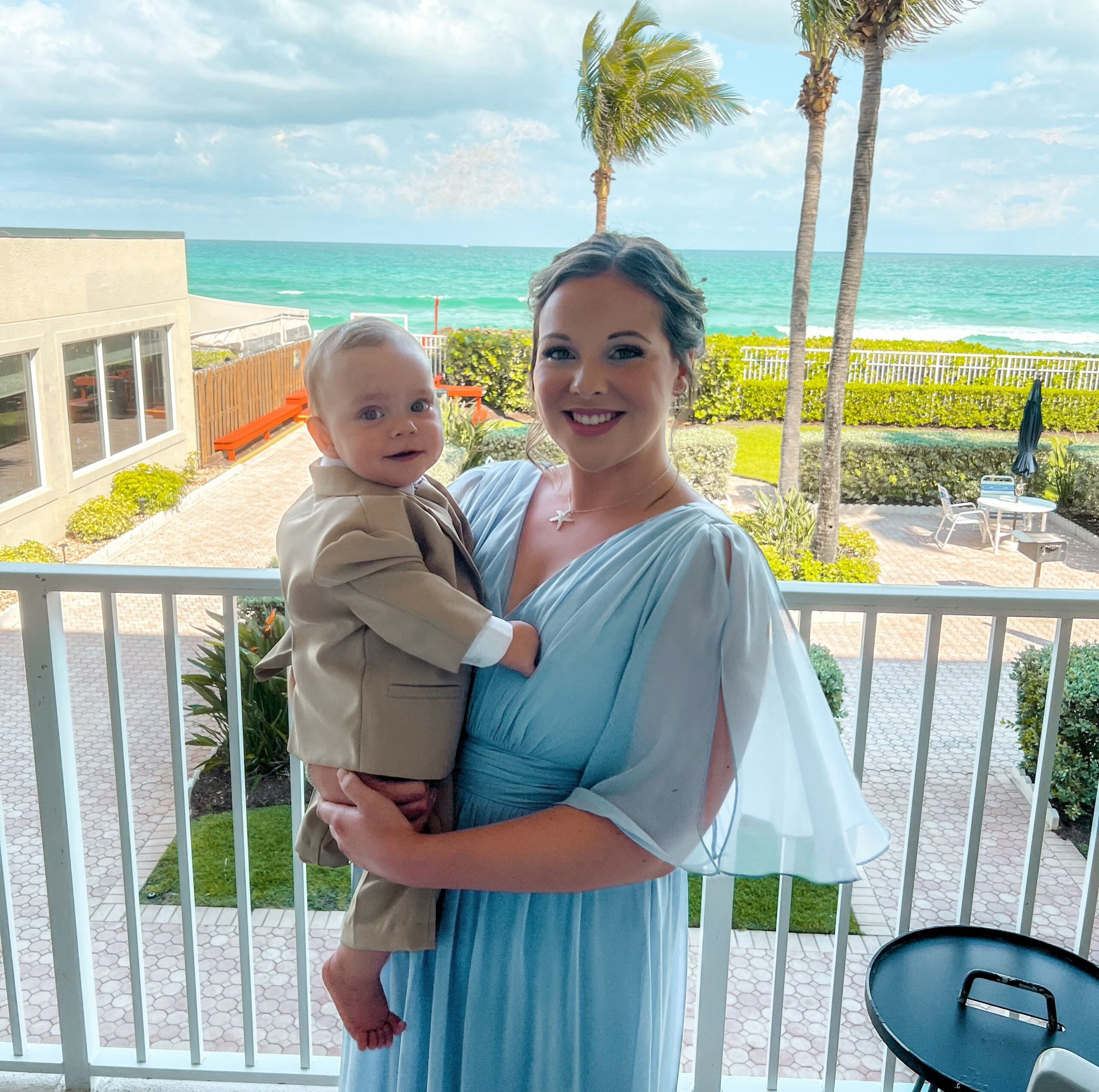 Brooke a commencé sa carrière comme infirmière autorisée (IA) au Centre de naissance d'Horizon Santé-Nord (HSN) en 2020, au début de la pandémie. Toutefois, Brooke avait déjà fait partie de la famille d'HSN par le passé, comme bénévole dans la salle familiale de l'Œuvre des Manoirs Ronald McDonald de l'unité de pédiatrie d'Enfants NEO et comme étudiante en soins infirmiers dans le cadre de nombreux stages cliniques dans l'ensemble de l'hôpital.
En janvier 2022, Brooke a vécu pour la première fois l'expérience d'être une patiente, dans un service où elle travaillait. « Mon mari et moi étions à la fois excités et nerveux à notre arrivée au Centre de naissance d'HSN pour accoucher de notre premier bébé. Je n'avais pas de plan d'accouchement, même si j'avais un peu d'espoir de pouvoir accoucher naturellement. La nuit était calme et le travail semblait prometteur au début », mentionne Brooke.
Cependant, pendant le travail, des complications sont survenues et Brooke a dû subir une césarienne d'urgence. « Tout s'est déroulé très vite. On m'a transportée à la salle d'opération avant même que j'aie pu dire au revoir à mon mari. Ce fut un moment stressant et effrayant pour mon mari et moi. Même si mon accouchement ne s'est pas déroulé comme je l'avais imaginé, j'étais vraiment reconnaissante d'avoir vécu une expérience positive. Personne ne souhaite que des complications ou des urgences surviennent, ou ne s'y attend, mais cela peut se produire au cours de l'accouchement et j'ai eu la chance de bénéficier de soins extraordinaires », mentionne Brooke. Elle ajoute aussi que son obstétricien est allé au-delà de ce qui était nécessaire pour les aider, elle et son mari, à se sentir plus à l'aise et moins stressés pendant cette urgence.
Le 17 janvier 2022, Brooke a accueilli un petit garçon, Jensen, dans le monde. À 7 lb 14 oz, il était en bonne santé, un avenir prometteur devant lui. « J'ai été chanceuse d'avoir mon mari à mes côtés et ma mère au bout du fil si j'avais besoin de lui parler. Malheureusement, ma mère n'a pas pu être avec nous durant le travail et l'accouchement à cause de la pandémie, mais l'amour et le soutien de mon mari et de ma mère m'ont aidée à traverser cette période. Nous sommes entrés à l'hôpital à deux et avons mis au monde notre petit ici, à HSN, sans les soucis ou les difficultés supplémentaires parfois associés à la nécessité de se déplacer pour obtenir des services ou des ressources en soins de santé. »
Lorsque nous lui avons demandé comment elle a vécu son expérience de patiente, comparativement à son rôle d'infirmière, Brooke a répondu ce qui suit : « Le fait de m'être retrouvée dans la peau d'une patiente est vraiment très différent de mon rôle en tant qu'infirmière et prestataire de soins de santé. Dans le contexte de ma propre expérience en tant que patiente, "l'infirmière" en moi s'envole par la fenêtre. C'était très angoissant d'accoucher de mon premier bébé. Je ne savais pas à quoi m'attendre et j'avais peur de ce qui allait se passer. Il existe une véritable vulnérabilité lorsqu'on est un patient. Étant donné les incertitudes et les défis, sur le plan physique, mental ou émotionnel, il est difficile et effrayant pour quiconque d'être un patient. L'expérience patient n'est jamais facile. C'est donc exactement la raison pour laquelle il est si important pour les fournisseurs de soins de santé de faire preuve d'empathie et de prodiguer des soins de qualité qui répondent aux besoins individuels de chaque patient. » Brooke ajoute ce qui suit : « L'accès aux soins est un déterminant social de la santé qui influence grandement les résultats en matière de santé. Toutes les personnes méritent de recevoir les soins dont elles ont besoin au sein de leur communauté. Je suis tellement fière de travailler pour un organisme qui s'engage à trouver des solutions pour régler les lacunes en matière d'accessibilité et d'autres inégalités en santé partout dans notre région, et pour offrir les soins plus près de la maison. »
Les donateurs jouent un rôle essentiel pour veiller à ce qu'HSN et ses équipes de professionnels des soins de santé disposent de l'équipement nécessaire pour prodiguer des soins exceptionnels aux moments et aux endroits où ils sont nécessaires.