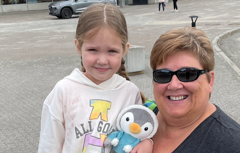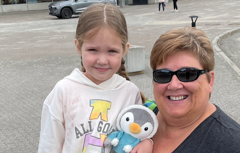 After moving from Manitouwadge, a Northern Ontario community, to Sudbury sixteen years ago, Marianna is happy to be in a community where she can easily access quality healthcare services, giving her peace of mind to enjoy being a grandmother and celebrating milestones with her granddaughter, like her fifth birthday.
Earlier this year, Marianna noticed she had some spotting. She thought nothing of it until her friend encouraged her to get it checked out, as post-menopausal women should not be bleeding. She went to see her family doctor who referred her to a gynecologist at Health Sciences North (HSN) for further testing.
Upon further testing, it was decided that Marianna needed an endometrial biopsy performed through a dilation and curettage procedure. This means that tissue is surgically removed from the uterus to get a better understanding of what is causing the bleeding.
Marianna continues to work with staff at HSN who are helping her through this health journey, but she is thankful that she can receive care and continue to spend time with her granddaughter. "My granddaughter is my reason for everything in this world," she said. "I was scared and nervous waiting for my procedure but the staff did everything they could to calm my nerves. I have a t-shirt that says 'kind people are my kinda people', and that truly describes my experience at HSN."
With the support from our community, we can continue to provide quality care, so patients, like Marianna, can focus on spending time with the people they love.
Marianna s'est investie avec enthousiasme dans son rôle de grand-mère et prend plaisir à passer du temps avec sa petite-fille. Après avoir déménagé de Manitouwadge, une communauté du Nord de l'Ontario, il y a seize ans, elle est heureuse de se trouver dans une communauté où elle peut bénéficier d'excellents soins de santé et ainsi continuer à voir sa petite-fille grandir.
Plus tôt cette année, Marianna a remarqué des saignements vaginaux. Elle ne s'en est pas souciée jusqu'à ce qu'une amie lui recommande de consulter un médecin, étant donné que les femmes ménopausées ne devraient pas avoir de saignements. Elle a donc consulté son médecin de famille qui l'a dirigée vers un gynécologue à Horizon Santé-Nord (HSN) pour passer d'autres examens.
Après avoir passé des examens de suivi à HSN, on a décidé que Marianna avait besoin de subir une biopsie de l'endomètre au cours d'une intervention appelée « dilatation et curetage ». Pendant cette intervention, du tissu est prélevé chirurgicalement de l'utérus pour déterminer avec plus de précision la cause des saignements.
Marianna continue d'être positive pendant son expérience, sachant qu'elle pourra passer du temps avec sa petite-fille. « Ma petite-fille est ma raison d'être dans ce monde, affirme-t-elle. Avant l'intervention, j'avais peur et me sentais nerveuse, mais le personnel a tout fait pour me calmer. J'ai un t-shirt sur lequel on peut lire « kind people are my kinda people » (les gens aimables, c'est mon genre de monde) et cela décrit réellement mon expérience à HSN. »
Marianna comprend l'importance d'avoir accès à des soins de santé spécialisés dans notre communauté pour les patients actuels et futurs. « J'espère que l'avenir d'HSN ne fera qu'aller de mieux en mieux parce que je ne vais que devenir de plus en plus vieille. »
Grâce au soutien de notre communauté, nous pouvons continuer à prodiguer des soins améliorés pour que les patients, comme Marianna, puissent continuer à passer du temps avec les personnes qu'ils aiment.