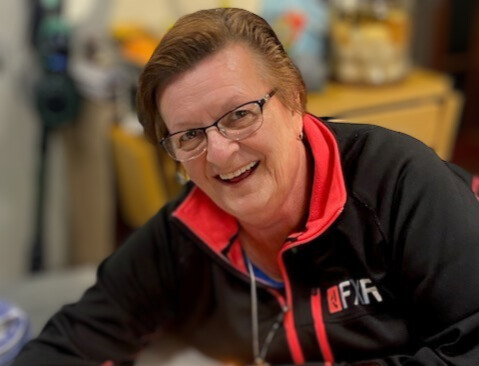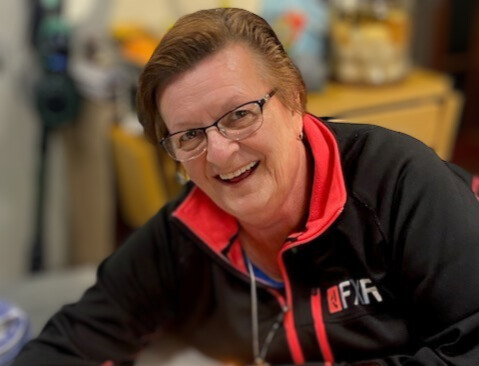 Michelle Brouse has experienced numerous health challenges over the course of her life that required access to care at Health Sciences North (HSN), including diabetes, angina, back surgery, and multiple kidney stone operations.
In 2004, Michelle began feeling tightness in her chest and was having difficulty breathing; different symptoms from anything she had experienced before. After a couple of days with no improvement, she decided to go to HSN's Emergency Department (ED). It was determined that she was having a heart attack and needed immediate medical attention. Michelle was prescribed medication as a result of the heart attack, to help break up the blockage in her artery, which proved successful for many years.
However, in 2016, Michelle was having chest pain and ended up back in the ED after consulting with her doctor. A blood test determined she was having another heart attack and an angiogram showed blockages that required the insertion of two stents – one of those began to block again in 2022 and required another stent on top of the existing one to reopen the artery for continued blood flow.
"If it wasn't for the quick thinking and immediate action of the doctors, I don't think I would be here today,"
Michelle credits her survival to the excellent and timely care she received while being treated at HSN. "I can honestly say that I never had a bad experience with the staff at HSN. Every time I go in, they address my concerns and are kind and patient with my questions," said Michelle. "I'm grateful that I received care from excellent physicians, nurses, and medical staff. We have the best doctors and I'm thankful for all they have done to not only save my life but countless others in our community."
HSN strives to be a trusted hospital in our region by providing excellent healthcare. With the support of our donors, we can continue to provide quality care to those in our community.
---
Michelle Brouse a eu de nombreux problèmes de santé au cours de sa vie qui l'ont amenée à obtenir des soins de santé à Horizon Santé-Nord (HSN), dont des traitements pour le diabète et l'angine de poitrine, une chirurgie au dos et plusieurs opérations pour éliminer les calculs rénaux.
En 2004, Michelle a ressenti un serrement dans la poitrine et avait du mal à respirer, des symptômes qu'elle n'avait jamais éprouvés auparavant. Après plusieurs jours sans amélioration, elle a décidé de se rendre au Service des urgences d'HSN où on a déterminé qu'elle faisait une crise cardiaque et avait besoin de soins médicaux immédiats. Les médecins et le personnel médical sont rapidement passés à l'action. On lui a prescrit un médicament pour dissoudre le blocage dans l'artère ce qui a donné de bons résultats pendant de nombreuses années.
Toutefois en 2016, Michelle a de nouveau ressenti de la douleur à la poitrine et s'est retrouvée au Service des urgences après avoir consulté son médecin. Une analyse de sang a révélé qu'elle faisait une nouvelle crise cardiaque et un angiogramme a montré qu'elle avait de nouveaux blocages qui ont nécessité la pose de deux endoprothèses. L'une d'entre elles a commencé à se boucher de nouveau en 2022 et a nécessité le placement d'une deuxième endoprothèse par-dessus la première pour rouvrir l'artère et rétablir la circulation sanguine.
« Sans la présence d'esprit et l'intervention immédiate des médecins, je ne pense pas que je serais ici »
Michelle attribue sa survie aux soins excellents et rapides qu'elle a reçus à HSN. « Je peux honnêtement dire que je n'ai jamais eu de mauvaise expérience avec le personnel d'HSN. Chaque fois que je me présente à HSN, il traite mes problèmes et répond à mes questions avec bienveillance et patience, indique Michelle. Je suis reconnaissante d'avoir reçu des soins de la part d'excellents médecins et membres du personnel infirmier et médical. Nous avons les meilleurs médecins, et je suis reconnaissante de tous les efforts qu'ils ont déployés non seulement pour me sauver la vie, mais pour sauver la vie de tant d'autres membres de notre communauté. »
HSN fait tout en son pouvoir pour être un hôpital digne de confiance dans notre région en prodiguant d'excellents soins de santé. Grâce au soutien de nos donateurs, nous pouvons continuer à fournir des soins de haute qualité aux membres de notre communauté.